Wyoming Early Intervention Initiative
 (WEII) Plus Program
WEII Plus is a state-wide early intervention program for Wyoming families who have a child who is deaf/hard of hearing, ages birth through 2 years of age.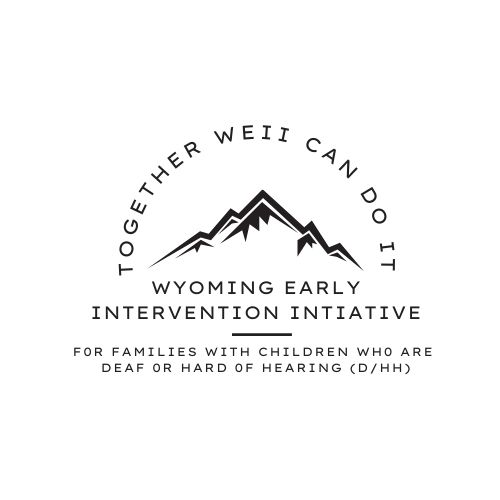 WEII Plus Mission
The WEII Plus Program is a statewide service delivery model which supports parents, family members, and early intervention providers as they give a child who is D/HH the opportunity to achieve their highest potential.
The WEII Plus Program is family centered. The Program strives to empower parents to be their child's first and most important advocate and teacher.

The WEII Plus Program provides coaching, education, resources, and strategies to families and providers to help them make informed decisions in all areas of the child's development (with a specific focus on communication & language, social & emotional, and literacy development).

Families and providers are supported by professionals in the positions of WEII Plus Facilitator and the WEII Plus Coordinator. The WEII Plus Coordinator is a highly qualified professional who plays an integral role in the success of the WEII Plus Program. The WEII Plus Facilitator has access to best-practice strategies and resources to provide a successful early intervention experience for each child and family
*Consultation and support for children ages 3-5 is available upon request. Please consult your IEP team members or the    WEII Plus Coordinator, Annette Landes 970-217-9532
Benefits of WEII Plus
Families in the WEII Plus Program will have the opportunity to track their child's development over time through use of the ODDACE (Outcomes and Developmental Data Assistance Center for EHDI Programs) progress monitoring program.

Support is provided to help families understand their child's hearing loss and the potential impacts it may have on their child's development.

The WEII Plus Program is available to families involved with the Wyoming Child Development Centers.

The WEII Plus Program helps build a community for your child. For example, families are encouraged to invite extended family members and caregivers to participate in their WEII Plus sessions so everyone can be involved.

Families are offered the opportunity to meet a deaf adult role model or a trained Guide By Your Side parent.
The WEII Plus Program includes the use of a variety of resources:
WEII Plus Family Resource Manual

WEII Plus Facilitator Manual

WEII Plus Scope and Sequence document

WEII Plus Padlet

Toy Time for Tots Curriculum

ODDACE (Outcomes and Developmental Data Assistance Center for EHDI Programs)
The WEII Plus Program is a collaboration of the

following agencies and organizations:
The Wyoming Early Hearing Detection and Intervention Program (EHDI)

Wyoming Families for Hands & Voices, Guide By Your Side

Early Intervention and Education Program – Behavioral Health Division – Wyoming Department of Health

Outreach for the Deaf/Hard of Hearing – Wyoming Department of Education

University of Wyoming Communication Disorders Program

Child Development Services of Wyoming

Marion Downs Center
Contact Information
Annette Landes, M.A., CCC-SLP
         WEII Plus Coordinator       
      Voice/Text: 1-970-217-9532